August 14th, 2009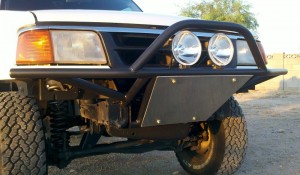 The Baja Bumpers Ford Ranger front tube bumper will fit all 1993-1997 Rangers. As with all our products, this bumper is a fully functional off-road bumper meant to withstand the rigors of the true off-roader, and can be installed in under an hour with only hand tools (no cutting or welding required).
The Ford Ranger front bumper comes with a top bar and 2 light tabs that will accommodate 6" lights or no top bar and 3 light tabs for up to 10" lights.
It comes with the 1/8" aluminum skid plate.
This bumper is made from all new materials, MIG welded. All the round tubing is 1 5/8″ x .120 wall, all mild steel (HREW). It is designed to give you that tough custom look, with a bolt on, no drilling installation.
This bumper is for off-road use, is not DOT approved, and like all off-road equipment, USE AT YOUR OWN RISK.